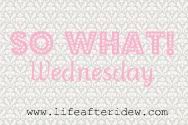 Here we go. SO WHAT if...
...the rest of the world is talking about Bin Laden and the Canadian federal election, and I still just want to talk about William & Kate. And talk about them in a British accent.


...the novel I just started writing sounds very much like
Crow Lake
, which is the novel I just finished reading. I was inspired!
...I'm going to eat macaroni for lunch and supper today. And I ate it yesterday, and the day before, too. I like friggin' macaroni, okay?


...I haven't paid attention to the Stanley Cup Playoffs since Round 1, and even then, my interest was mild at best. Once the Habs were eliminated, I was able to rest peacefully.
...I write mile-long blogs about Survivor and American Idol every week and nobody reads them but me.
...I have no money and had to bum the cash I gave my mom for her birthday to get my hair cut. (Okay, I actually do feel bad about that one. But don't worry, it's almost Mother's Day, she'll get it back. ;) )
...the best party I've been to in a long time was my friend
Stacy's
grandmother's 90th b-day bash last weekend. Swear to God, if I make it to 90, I want a party like that!
...several times a day, you may catch me murmuring to myself, "I, Jillian Elizabeth, take thee, William Louis Arthur Phillip, to my wedded husband..." *CRAP* - I always screw it up - "William Arthur Louis Phillip"!!!
This is my first attempt at altering a photo with MS paint. As you can see, I'm not very good at it. I promise to try to do better next time.
What are you "So What"-ing about today? Play along with Shannon at Life After I Dew!