It's been one of those mornings. You know the kind. Nothing majorly disastrous has happened, but a series of small blunders have piled up, leaving me in a bit of a grump.
My Keurig balked on me and I had to smack it really hard to get it to spew out the coffee. I cut up too much watermelon for my snack and couldn't find a container big enough to put it all in. When I did find one in the jungle of plastic containers in my cupboard, about eighty million others came tumbling down with it. My lunch wouldn't fit in the bag I carry it in. I couldn't get the foil thingy off the new bottle of Coffeemate I opened. AND my garage door was stuck and I had to fight to get it open.
*sigh*
So needless to say, I think it's a perfect day to bring on the happy. And that is why I'm linking up for the very first time with Ricki Jill from Art @ Home for her "My Happy List" linky party!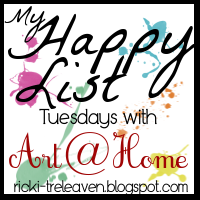 Spaghetti – Such a simple little thing to be happy about! Homemade spaghetti sauce is one of my favourite things to make, but it's been months since I've made it. Today is a "rest day" on my work-out schedule, so I'm taking advantage of the extra time tonight to make a special dinner. I can't wait to be home and have the delicious smell of sauce simmering in my kitchen!
A night to putter – It seems lately my week night evenings have been busy – nothing major, just rushing to squeeze in a work-out, grab a quick supper, and do the things that need to get done before bed (laundry, dishes, etc.) Tonight, I have a clean slate, and I actually look forward to having time to change the scent in my Scentsy warmer, paint my nails, read a few extra chapters in my book, and just relax on the couch for a change!
Dexter - My mom told me on the weekend she's sick of reading about Dexter on my blog. Sorry, Ma, but he's making me happy these days! I so look forward to watching an episode in the evening before bed. Tonight, I may even have time for two!
Kara, this blood-spattered Dexter pic is just for you!!!
Chai tea – It makes me think of autumn, which I've so been longing for these past few weeks. I have a steaming cup of it in front of me right now as I type this!
My book – As of right now, this doesn't actually exist. All I have so far is an idea that I've been rolling around in my head. But I've made a promise to myself to start writing again – beyond the blog. I've always said one of my dreams is to publish a novel, but that won't happen if I never actually write something. I think I'm finally on the cusp of it…
Dallas Smith – He's been my favourite "musical discovery" of the past year, and I'm looking forward to seeing him live again on Saturday night at the Shawville Fair. This time, I'll be more familiar with his songs and I can't wait to be there singing along!
My self-imposed budget - A strange thing to be "happy" about, to be sure. But I've made the decision to really crack down on my own frivolous spending – and, once again, to abolish the use of my credit card. It's time to start saving money if I ever want to make some of my "dreams" come true (a new TV, PVR, DVD player, possibly even my own house someday…) I can't keep waiting for magic to happen with my bank account. It's up to me, and it starts *now*. I'll still have my treats – dinners out with friends, movie nights, seasons of Dexter of course! – but my relationship with the Old Navy and Amazon websites just has to end. ;)
Celebrating - This upcoming weekend is already an exciting one because it's Shawville Fair, which is always a highlight on my calendar – but more than that, I'm excited about going to The Lonestar with friends to celebrate Stacy's 30th birthday! I can't wait!!
Looking ahead - We're approaching a season change, which often leaves me feeling unsettled (especially the one from summer to fall), but for some reason, I'm feeling more excited than anything this time. I'm sure the weekends in September and October will start filling up with activities, but as of right now, it's pretty quiet for the most part, and I'm relishing that. I'm looking forward to taking a deep breath and soaking it all in – and being happy in those moments.
A community to be proud of - I wrote last week that I was happy to be a part of a community that pulls together in hard times, and that I knew the benefit party for my friend's brother would be a big one. I really had no idea at that time just how BIG it would be. On Friday evening, our little community centre hall was bursting at the seams with support for Harold & his family. It even made the news! I've never been more proud of my town and the people in it. I wouldn't want to live anywhere else… :)
Photo of Harold & the Ferry staff who organized the benefit party
Credit to Dolan Art & Photography
There! Despite the little things that have gone "wrong" today, it's so nice to take a step back and breathe in the happy. I needed that!! :)
Also linking up today for Talk To Us Tuesday with Shawn!