That's right. It's time for a change.
Oh, don't worry. Nothing terribly drastic.
But I'm getting my hair chopped off tomorrow morning. And I'm going shorter than I think I ever have before…
This is about as short as I've ever gone (circa Summer '10):
Yes, that is me on left, next to the ever-handsome karaoke crooner John Henry, with my good friends Sue and Sarah, likely singing "Any Man of Mine" with a giant deer head hanging over us.
So sad the old Corral, aka T's Bar, is now defunct…and so sad that I no longer fit in those jeans, I loved them…
I digress.
Back to the plan…Cutting off my hair into a short bob style, and dying it blonder. I actually really like how blonde I was in that pic, so that will be the goal. That was actually my goal the last time I got my blonde highlights put in, but because of the dark colour I went to for the winter, the new blonde didn't work so well. It kind of took on more of a red look than blonde. Hopefully it takes better tomorrow.
See how it's more red than blonde? I want blonder…
So, I know I want to go short. I know I want an inverted or angled bob. But there are still decisions to make…Do I keep my bangs long or cut them? A side bang, perhaps? My hair is so thin that I'm never sure what might work with it. But these are a few of the styles that have grabbed my attention:
This hair looks like it might be similar to mine in texture…
I don't think I have the thickness to pull off the choppy look, though I love it…
This is actually quite similar to how I had it the last time, I think, except mine was a bit longer.
Dare I go this short…?? eeee!!!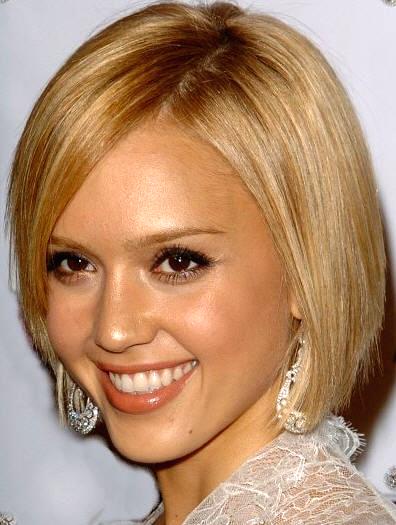 I think this is probably the closest picture I could find to what I envision on my head. I like the length, I like the side bang…I think this one might be it!
My hairdresser, Lisa, is excited…she says this style suits my face better than my longer, limp look that I've got going right now. The problem is, every time I cut it short, I want it long again. And vice versa. The thing I will miss most is being able to throw it up in a ponytail whenever I want. The thing I like the best is that doing my hair "curly" is easier when it's shorter, and I look forward to being able to go curly – sort of a wind-blown, messy, beach look for the summer…
Wish me luck…
And have a wonderful weekend, everyone :)