Not only is it Talk To Us Tuesday with Impulsive Addict and Shawn, it is also Random Tuesday with Stacy Uncorked.
Let's hit up both on this cloudy, rainy Tuesday, shall we.
The hair cut finally happened on Saturday morning, and you have no idea how necessary it was. I've been feeling so much lighter and summery, and not just hair-wise, if that makes any sense. Just what I needed to help pull me out of this current little rut I've been in. Some of you were sweethearts asked me to show it off, so here it is:
This was shortly after the cut…I can't make it look that good, but I still like it
These were taken yesterday. My straightening techniques suck. Slightly fluffier than I'd like it, but oh well.
My mom says it makes my face look rounder (which is code for "fat"). I say it makes my neck look skinnier. You win some, you lose some.

You know what else can boost my mood quickly? A little on-line shopping. I've been struggling with my summer wardrobe. Things that used to fit don't anymore. Things that do fit are old. I couldn't remember the last time I bought new clothes. So yesterday, I went on the Old Navy website and ordered a whole bunch of summery selections. I hope at least some of it fits, because nothing can kill a mood any more quickly than tight clothes that need to be returned…*sigh*

I have a new favourite song. Can you say OBSESSED?? I love it. Can't get enough. Listen to it three or four times a day. Adam Levine makes me weak at the knees.
Father's Day was another one of those "firsts" I was dreading. It turned out to be a not-so-bad day. After church, we went out for breakfast and then on to the cemetery. Then Mom & I hung out at home, reading and relaxing, enjoying the sun. I just had to think of Dad scowling anytime he was the centre of attention, and it made the day easier. We had Mae's for supper, and when I went down to pick up our order, I found a penny lying on the picnic table. My mom finds pennies all over the place, but I hardly ever find any…I think Dad meant that one just for me. :)
I'm still reading Fifty Shades. I'm dragging the third book, Fifty Shades Freed, out as long as I can. I know I've said it before, but I seriously don't know what I'm going to do when I don't have Christian anymore… I guess I'll just have to keep watching The Vampire Diaries over and over, envisioning Mr. Somerhalder as the delicious Mr. Grey.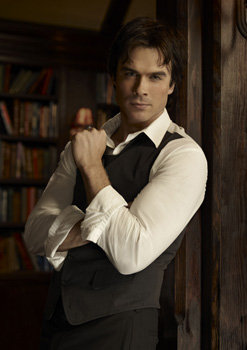 Baby Time is getting closer and closer!! There was a mixed shower for Luke & Amanda on Saturday at her parents' place, and it was the perfect way to spend an afternoon – Texas Horseshoes for the boys, lawn chairs and beverages for the ladies, BBQ'd burgers, dogs, and salads for supper, and a new stroller & car seat for the parents-to-be! I think Amanda's really ready for this…
Let's hope Luke & Amanda's baby is as cuddly as their giant horse of a dog. Poor Yzerman thinks he's a lap-dog. Just looking at these pictures crack me up, remembering how hard he tried to sit on Lynn and lie on top of Meghan!!!
Happy Tuesday, gang :)