Remember when I told you guys last week that I've fallen victim to Pinterest? (Finally)
Well, I let my Pinterest "YUMMY" board inspire me last Friday as I planned for our Book Club meeting at my place that night. Unfortunately, the blustery little snow storm that descended on our area that day resulted in a smaller group than usual – including one member who recently had jaw surgery and wasn't able to eat – but it was fun to have some new snacks for the ladies that made it - and were able to eat - to try out!
I love having friends in from time to time, whether it be for girls' night, book club, parties to promote companies like Epicure or Lia Sophia – but I was feeling that my standard lineup of snack foods was becoming a little stagnant; a little "overdone", if you know what I mean.
I parade out the same ol' cheese dip, cheese ball, veggie platter, spinach dip, and so on, time and time again. I wanted to be a little different this time, and not rely on my "tried & trues".
Thankfully, Pinterest came to my rescue! I had been pinning lots of yummy stuff to try out, and figured this was my perfect opportunity to make some of it. I thought I'd share some of those recipes – and the sources from which I pinned them – with you!
Buffalo Chicken Dip (aka "Crack Dip")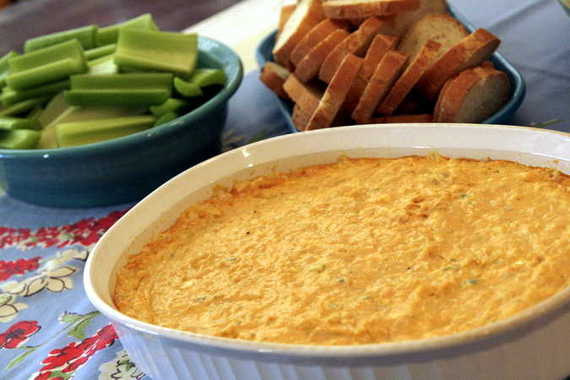 Picture and recipe via Sing For Your Supper
8 oz. package of cream cheese, softened
1/4 cup ranch salad dressing
1/4 cup blue cheese salad dressing
1/2 cup buffalo wing sauce or buffalo style barbecue sauce
1/2 cup crumbled blue cheese (shredded mozzarella cheese can be substituted)
2 boneless, skinless chicken breasts, cooked and shredded

Pre-heat oven to 350 degrees F. In a deep baking dish, mix cream cheese, salad dressing, buffalo sauce, and cheese. Stir until combined. Stir in chicken.
Bake uncovered for 20-25 minutes, until the dish is heated through. Serve with crackers, pita chips, sliced bread or vegetables.
I made a few little alterations to the recipe. For one, I used 1/2 cup of ranch and omitted the blue cheese dressing. Also, I did as the recipe suggested and substituted mozzarella for the blue cheese. No blue cheese for me, please. I had picked up a rotisserie chicken at the grocery store, and that worked well for the shredded cooked chicken breast. I found the recipe a bit too hot for my taste buds, so when I made it again on Sunday for Dale's Daytona 500 party, I cut back the buffalo wing sauce to 1/3 of a cup and it suited me better. I served it with Baguette Crisps, sliced baguette bread, and Tostitos chips.
Overall, I enjoyed it, but I wouldn't call it "crack" – not that addictive. It was just "okay" in my books.
Dill Pickle Chip Dip
Picture and recipe via Happier Than a Pig in Mud
8oz cream cheese, softened
1/2 to 1 C dill pickles, finely diced (I used a full Cup)
1 Tbsp Worcestershire sauce
Dill for garnish if desired
Mix all and serve at room temperature with chips.
This one was super easy to make and super yummy! HOWEVER – pretty much tasted exactly like Philly Dill Pickle Dip. Next time, I'm not sure I'd bother chopping up my own pickles and softening my own cream cheese. Why bother when Philly already does it so well??
I love how they put "1/2 the Fat of the Leading Sour Cream Dip"!" on their container…you sure know how to woo me, Philadelphia!!!
Monster Cookie Dough Dip
Picture and recipe via Skip to My Lou
8 oz. Cream Cheese, softened
1/2 Cup Butter, softened
1 Cup Creamy Peanut Butter
1 Cup Powdered Sugar
3 Tbsp. Brown Sugar
1 tsp. Vanilla
1 Cup Oats (regular or quick)
1 Cup Miniature Plain M&Ms
1 Cup Miniature Semi-Sweet Chocolate Chips
Mix cream cheese, butter, vanilla and peanut butter until smooth. Stir in brown sugar and powdered sugar, mixing well. Next fold in oats, M&Ms and chocolate chips.
Serve with pretzels or graham cracker sticks.
This one was probably my favourite of the three recipes I tried. I'm not usually a "sweet dip" kind of girl – but for some reason, in the past few months, I crave chocolate, I crave peanut butter, I crave sweetness. And this dip delivers. I couldn't find graham cracker sticks at my grocery store, but I used social tea cookies and mini pretzels. The leftovers from Friday night were also a huge hit the next day with my nephew and niece! (Can't imagine why…) This makes a huge batch, so you can either half it, or make the full recipe, and roll half in a ball, wrap in Saran, and put it in the freezer for another time. I did this, and the frozen ball of yummy peanut buttery cookie doughy goodness has been haunting me all week…
"Let me out, Jill! You have so many social tea cookies left to use up! I could help!"
Yes. The ball of frozen yummy peanut buttery cookie doughy goodness talks to me.
Have you tried out any new recipes that you've pinned? Successes or failures? Do share! :)
And remember, you can find me on Pinterest here.
Happy Thursday!!!