I've been wanting to link up with Lena @ Mom2MemphisAndRuby for her Tuesday 10 meme for a long time now, but never was able to get my act together.
Today, the theme is "Favourite Beauty Products". Since I'm planning a shopping trip tonight to replenish a few of my faves that have run out - or will be running out soon! - (as well as to get my phone fixed! FINALLY!!) - I decided it's the perfect time to take part in my very first Tuesday 10!
This week, Lena's co-host is Ashley from Flats to Flip Flops. She's the one who suggested the theme for this week! :)
1. Covergirl Trublend Liquid Foundation. I've been wearing it in 405 Creamy Natural for a looong time. It's my mom's brand; hence, it is mine too. I've tried others, but none work as well as this for me! (A BIG reason for the need to go shopping tonight!)
3. Covergirl Professional Loose Powder. In 110 Translucent Light. Another product my mother insists upon, and now I can't live without!
3. e.l.f. Studio Contouring Blush & Bronzing Powder. So cheap, and looks great! A sweep of the bronzer along my cheekbones, and blush on the apples of the cheeks – it's my favourite blush by far!
4. LashBlast Fusion Water Resistant Mascara. Confession: I didn't use mascara until a couple of years ago. And even still, I only use it once in a while. I always stab myself in the eye and end up with smudges all over. I hate mascara. This is the only one I've had any success with, and while I don't truly love it, I haven't found another that I like better yet. Plus, this one wipes off easily when I end up smudging it on my face by accident! lol!
5. e.l.f. Studio Endless Eyes Pro Eyeshadow Palette. I also never used to wear eyeshadow, until I discovered e.l.f. Affordable and I'm starting to actually learn how to put it on! ha!
6. e.l.f. Studio Shimmer Palette. I use this a lot – as a shimmery base below the eyeshadow, or on its own, just to give a little sparkle around my eyes.
7. e.l.f. Essential Professional Complete Set of 12 Brushes. The best make-up brushes I've come across, at a very reasonable price. The other ones I've used have lost their bristles easily – these ones haven't!
8. Sally Hansen Insta-Dri Anti-Chip Top Coat. In the past year, I've started painting my nails more regularly. I like to change it up at least once a week. I rarely get through the week with perfect nails, but this helps a lot! And I like that my nails are dry so quickly after applying.
9. Nivea Hydro Care Lip Balm. I have lip issues. I pick my lips. It's a nervous habit that I wish I could break. Hence, my lips are often dry and sore. I haven't had much luck with lip balms, even though I use them steady, but this one has been my favourite so far. (Going to pick up some of this EOS lip balm I keep hearing about, though!)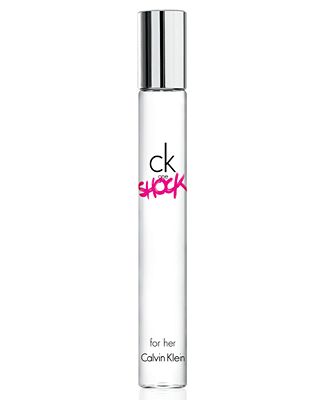 10. ck one Shock for Her. A few months back, I started getting the Luxe Box, which has really introduced me to a lot of beauty products that I never would have thought of trying. One of my favourite things to get is perfume samples. I got this baby a month or two ago, and I've been wearing it every day. LOVE!
Ooooooo, now this has me very excited to use my Shoppers Drug Mart gift card tonight! haha!!
Thanks to Lena and Ashley for the fun theme!
I'm also linking today's post up with Impulsive Addict and Shawn for Talk To Us Tuesday!