Anybody else out there a fan of NBC's The Voice?
I loved it last season. And now that it's back for Season 2, I'm once again totally hooked.
I love the premise: Talented individuals and duos are invited to "blind audition" for the four celebrity judges/coaches – Cee-Lo Green, Christina Aguilera, Adam Levine, and Blake Shelton.
They sit in giant chairs with their backs turned to the stage, only able to listen to the singer, until the decide if they want that particular contestant on their "team". If they want them, they push their button and turn around to watch the rest of the performance. If more than one of them turns around, the singer then has the option to choose which one of the celebs they want as their "coach". Each coach is to assemble a team of 12 singers, whom they will then mentor through the battle rounds until one talented performer is left standing and given the title of "The Voice".
Cool, right?!
I've even got my mom into it.
I have to admit, though, despite the fact that I love the idea behind the show, there's one other main reason I keep tuning in, week after week…
Adam Levine? Sitting there, all sexy, in his "I WANT YOU" chair???
Hell yes.
humina humina
Now, I know what some of you are thinking.
Really, Jill? Thought you'd be more of a Blake Shelton kind of girl.
And you wouldn't be wrong. Blake is smokin', too.
He's an added bonus for tuning in to The Voice. For sure.
But at the end of the day?
I'm Team Adam.
When Adam turns his chair around, and the contestant chooses another coach over him? I'm always a little bit dumbfounded. I know that if I was on that show, I'd be praying Adam would turn around for me and give me that sexy little "I knew you were awesome" grin.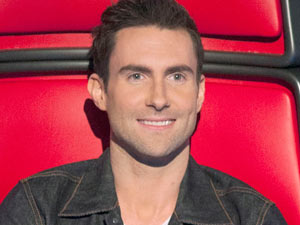 So how about you? If YOU were a contestant on The Voice, who's chair would you be hoping would turn around for you? Adam's, Blake's, Christina's, or Cee-Lo's?
If they all turned around, which one would you pick?
***
Linking up today's post with Impulsive Addict and Seriously Shawn for Talk To Us Tuesday!! Feels good to be back, thanks for hosting ladies!!